London, 24th July – Yesterday we paid a heartfelt tribute to the recently deceased journalist Andrew Graham-Yooll. The commemoration took place at the 25th Jorge Luis Borges Conference, which was inaugurated in 1983 on the initiative of the Anglo-Argentine Society by the Argentine literary great himself. Since that year, the annual event has been attended by Graham Greene, Mario Vargas Llosa, Alicia Jurado, Guillermo Cabrera Infante, Angela Carter, Carlos Fuentes, Simon Collier, Adolfo Bioy Casares, Marcos Aguinis, Nicholas Shakespeare, Alberto Manguel and Henry Elio, among others. 
Yesterday's event at the Official Residence of the Argentine Ambassador, where Graham-Yooll was originally set to speak, turned instead into a heartfelt tribute in his memory. "A Little History of the Buenos Aires Herald: Paté, Brandy and Bombs", the title of his posthumous speech, was read out by his daughter Inés in a moving address, in the company of relatives and friends of Andrew, including journalists and members of the Anglo-Argentine community.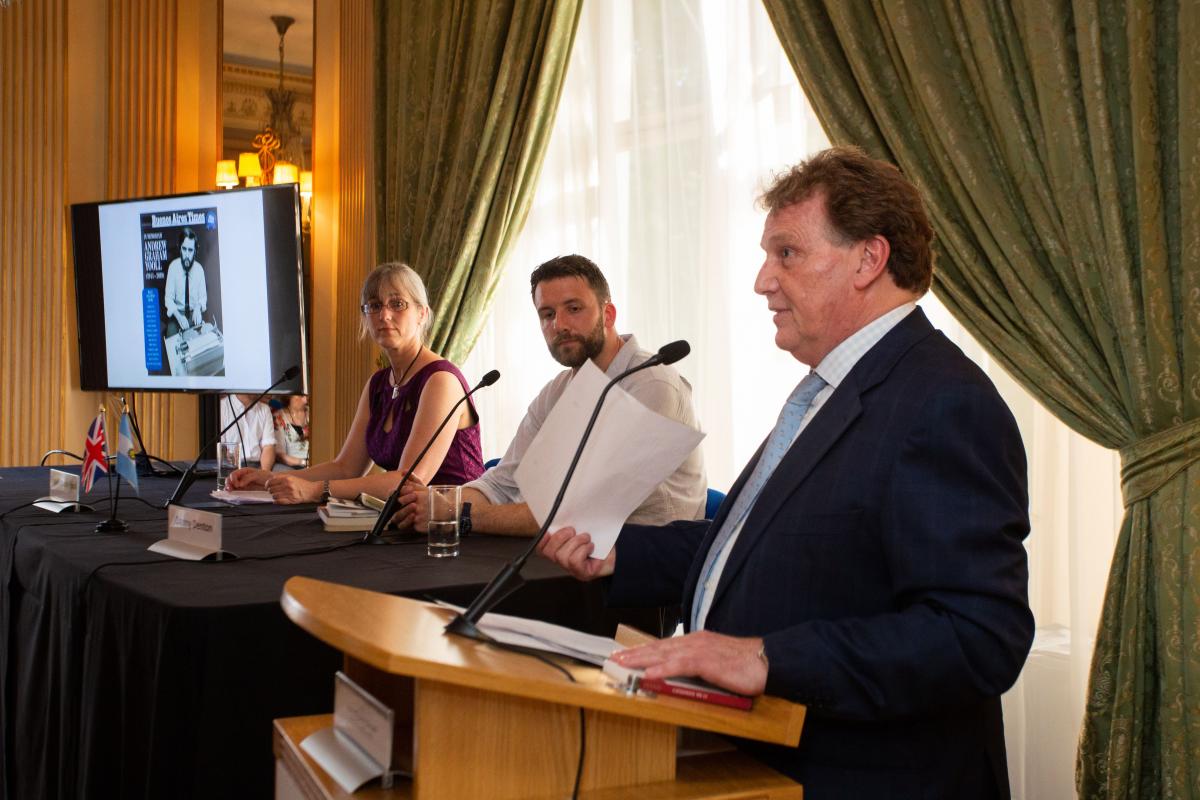 Ambassador Carlos Sersale welcomed those gathered with a poem "Juan López and John Ward", by Borges about the futility of war and the importance of what unites Argentines and British over our differences. "One year ago I met Andrew – the man, and the legend. Today we want to make a pledge, and a commitment to you, to keep his legacy alive. This conference is an opportunity to celebrate the talent of his literary oeuvre. It also serves as a tribute to his courage, to his contribution to truth, justice and democracy in Argentina, and the links between the history of the Scottish-Anglo-Argentine communities", the Argentine diplomat said. 
Following a moving address from young British writer Danny Denton, the speech covering the history of the Buenos Aires Herald typified the writer and journalist's sharp wit, captured in his anecdotes about the newspaper, his historic vision and the acute critical gaze he cast on current affairs in the media world.
Andrew Graham-Yooll (1944-2019)
Graham-Yooll was born in Buenos Aires to a Scottish father and an English mother. He was one of the most renowned journalists at the Buenos Aires Herald, where he played a heroic reporting role during the last military dictatorship. He joined the paper in 1966, leaving it in 1976 to seek exile in London. In 1994 he returned to Argentina where he became editor and subsequently chairman of the board at the Herald. 
During his time in the UK, he worked for the Daily Telegraph (1976-77) and the Guardian (1977-84), covering the Malvinas War for the latter. He was also editor of Index on Censorship magazine (1989-1993) in London, editor of Reader and "Ombudsman" at Perfil newspaper, in Buenos Aires (2007-2013). 
The many books written by Graham-Yooll include the now classic "A State of Fear" (1985). In 2002, he was awarded the Order of the British Empire (OBE).
More pictures Flickr @ArginUK