POLITICS / MALVINAS - 12th DECEMBER 2018
Embassy of Argentina in London supports ceremony to return personal possessions to argentine war veteran Gorzelany
12th December - Buenos aires.
On 12 December 2018 a ceremony was held at Palacio San Martín during which Malvinas War veteran Alejandro Gorzelany was presented with various personal objects connected with the South Atlantic conflict, donated by British war veteran Edward Goodall.
The ceremony was led by the Deputy Secretary for the Malvinas, Antarctic and South Atlantic, María Teresa Kralikas, who was also joined by the Secretary for Human Rights and Cultural Pluralism, Claudio Avruj and authorities from the Ministry of Defence, the British Embassy, representatives from organisations for the relatives of ex-soldiers, veterans themselves and the general public.
Mr Goodall had come across this soldier's helmet as a collector, and on discovering the name Gorzelany on the inside, he used social media to make contact with and give the helmet back to its rightful owner, this October in Plymouth.
Following this cordial meeting, Goodall contacted the Embassy of Argentina in London and was welcomed by Ambassador Carlos Sersale di Cerisano and other Embassy officials, who received a number of gifts from Mr Goodall: his ceremonial sword from the Royal Navy, a plaque and a medal, which were today presented to his Argentine friend.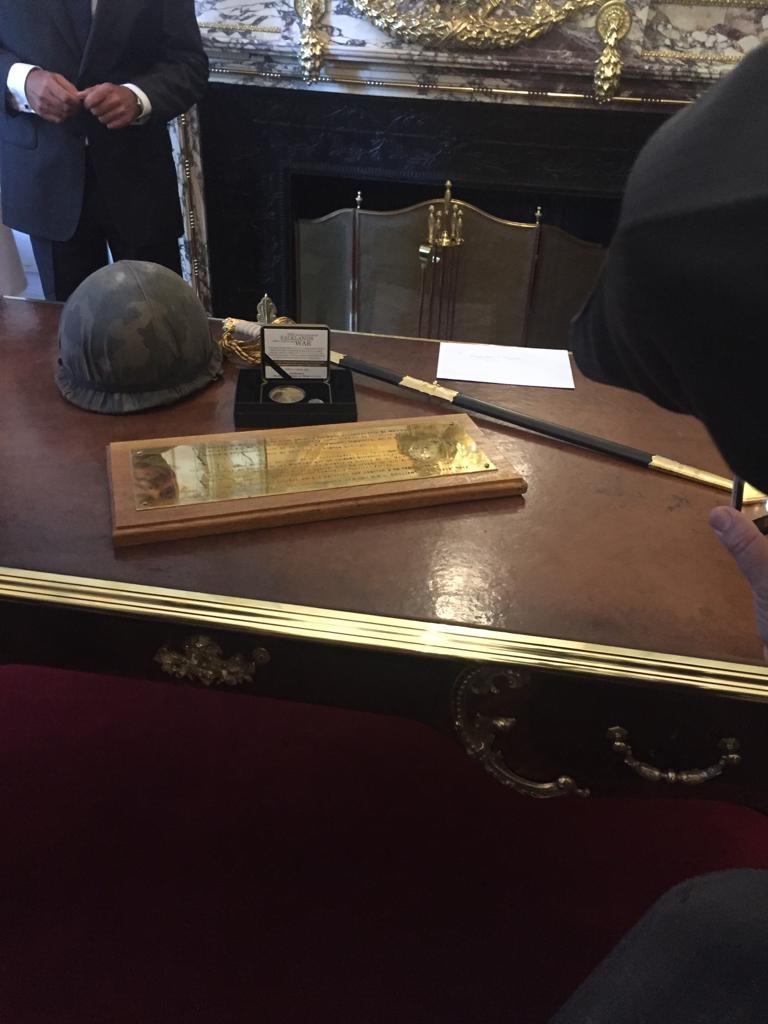 During the evening, Kralikas read fragments of the plaque that was presented, along with a sword, to the former Argentine soldier: "I present this sword to my good friend and brother in arms from the Malvinas, Alejandro Gorzelany, as a token of honour, respect, friendship and to celebrate his visit to Plymouth, England, between 11 and 13 October 2018". The text went on to add that "Thirty six years after the end of hostilities this helmet, which was found by a British soldier on the battlefields of the Malvinas, is hereby returned to the brave soldier who fought during the Malvinas War. From the misery and suffering of this war, God has built a bridge of friendship between us, our families and our countries".

Kralikas said that the "two soldiers who found themselves on opposite sides in battle, are today standing side-by-side thanks to the fact that they reached out to exchange these possessions".
For the Foreign Ministry this gesture, attesting to great humanity between fellow veterans, is a fine example of friendship and reconciliation. It demonstrates brotherhood between members of the armed forces of both countries and reaffirms bilateral ties through the building of trust and reconciliation between our peoples.